Critical Infrastructure Protection
What We Do
AGT provides a wide range of physical security systems and solutions to effectively safeguard any organisation's systems, facilities and equipment from potential threats, such as unauthorised access or other hazards. Through our work globally, delivering turnkey security projects to multiple government entities, AGT has established itself as one of the world leaders in the field of physical security.
What We Offer
Perimeter Protection
AGT offers a number of products in the area of perimeter protection. These include:
High Security Fencing
AGT's High Security anti-cut/ anti-climb fencing has been tested and certified according to ASTM standards.
High-End Surveillance Systems
AGT provides surveillance systems integrated with the latest video analytic system technology, offering:
Accurate face recognition with watch-list detection
Forensics face search
License plate recognition
Sterile zone intrusion detection
Abandoned objects detection
Open area crowd counting
Crowd density estimation
Face Recognition: Unique Features:
Recognition is possible at 25 metres on a 2MP camera with no GPU, with only 22 pixels required between the eyes for good recognition in a crowd. Recognition is also possible at 12 pixels, with a slightly reduced accuracy.
The software has an internationally patented ability to understand dwell time and will automatically track a person who has been involved in suspicious behaviour. It also has the ability to perform behaviour analytics and recognition of others involved on the same camera.
The driver match feature ensures that a driver is authorised to operate a certain vehicle.
Abandoned object and theft detection is possible, even when an object is not clearly visible to the human eye.
Perimeter Intrusion Detection:
AGT's perimeter alarm system provides the most accurate and reliable intruder alerts possible, saving both time and money on responding to nuisance alarms while offering complete confidence in your perimeter intruder detection system against malicious intruders. Beams are a simple way of protecting open areas with a quick invisible detection barrier. Beams can also work in conjunction with other perimeter detection systems for the protection of gates and other breaks in the fence line.
Perimeter Radar Detection System:
Ground surveillance radar automatically detects and tracks moving targets, such as people, animals and vehicles in large areas, making it ideal for open areas where physical borders are not possible. The benefits of AGT's perimeter radar detection system include:
The ability to track targets moving within the field of the radar and automatically control CCTV cameras and other equipment to follow the targets.
Effective detection on both on land and over water, making it ideal for ports and maritime security to detect targets in the water that are approaching facilities, as well as airports to track intruders within the airfield.
Buried Intrusion Detection System:
This intrusion detection system can be buried under or next to a fence, or in open ground, and can detect the movement of people or vehicles across the ground. The systems can detect the direction of movement and give a precise location of the event along the perimeter.
Thermal Cameras:
AGT's thermal cameras are capable of human detection at a distance of up to 30.30km and vehicle detection at a distance of up to 50km, and can be integrated with a long-range radar.
Long-Range Radars:
Our long-range radars offer automatic wide-area threat detection, tracking and identification. They are capable of simultaneously handling both internal and external threats and have an unsurpassed user interface. They are also scalable, from smaller installations to border-size solutions.
Access Control Systems:
 In the event of a terror attack involving a hostile vehicle attempting to breach the perimeter of a facility, when all else fails the last line of defence are the physical access control systems, such as the high security barricade, road blocker, bollard, boom barrier or gate.
Crash-Rated – PAS68 – ASTM F2656
AGT's PAS68 blocker has a 1000mm high blocking segment and is designed as a hostile vehicle mitigation solution that provides protection to sites against extreme vehicle-borne improvised explosive device attacks.
Crash-Rated Bollards
Designed to withstand direct impact forces in excess of 1,800 KJ, the bollards provide protection against extreme vehicle-borne improvised explosive device attacks for sites where aesthetics and public perception are a necessary consideration. AGT's bollards have been physically impact tested to PAS68 criteria.
Crash-Rated Gates
The armoured vehicle gate provides a high level of security against unauthorised vehicle access. The gate protects sites from aggressive attacks while maintaining a pedestrian secure environment, and has been designed to withstand substantial direct impact forces. It has been tested to the highest standards in numerous full-scale crash tests, conducted in accordance with PAS68. The gate is available in a range of heights, clear widths and infill types.
Ballistic Protection Gate
The Ballistic Protection Gate has been designed to withstand a BR6 level weapon attack. It can be used to protect sites from aggressive ballistic threats, while maintaining a pedestrian and vehicle secure environment. The gate is constructed from material that has been independently physically tested and certified to comply with the highest internationally recognised standards.
UVSS: Under Vehicle Surveillance System:
The UVSS scanner has a high-resolution camera and LED lighting for under vehicle scanning. During the scanning process, the motion-activated camera captures the entire underside of a vehicle in moving traffic.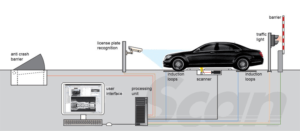 Vehicle X-Ray System:
AGT's vehicle X-ray system is able to scan up to 400 passenger vehicles per hour, per lane, with drive-through imaging at vehicle speeds of up to 20km/h. The scanner highlights both organic and metallic threats and contraband, such as explosives, weapons, currency and drugs and the compact design fits into standard traffic and toll booth lanes.
The system offers high-energy imaging for thorough inspection of densely-loaded containers and safely screens the occupied driver cab using optional technology. The multi-view technology provides 4 images to allow for comprehensive inspection, and the Z Backscatter technology offers enhanced detection of drugs, currency, cigarettes, explosives and other organic contraband.
The scanning process and x-ray generation is automated and the scanned image appear on the operator's PC display in real-time mode.
Rail X-Ray System:
AGT's rail x-ray system offers a high throughput, high-energy 6 MeV x-ray and bi-directional inspection with a 9 MeV x-ray. It features automated scanning of rail cars and is available for single or multiple tracks. The system has high-speed configuration for scanning at speeds of up to 60km/h and offers material discrimination with optional radioactive threat detection.
Vehicle Human Detection System:
The Human Presence Detection System is able to detect unauthorised individuals hiding in vehicles or containers by sensing the vibrations caused by the human heartbeat. There are two available models: standard and enhanced. The enhanced model utilises an additional pair of ground sensors and uses upgraded software offering active ground vibration cancellation, which makes it ideal for challenging operational environments such as busy border checkpoints, seaports and high traffic inspection areas. The standard system can be upgraded to the enhanced model quickly and easily in the field with a retrofit and new software update. The system provides reliable results in a variety of environmental conditions, including dry, dusty, wet and hot or cold environments.
Anti-Drone Security System:
The Anti-Drone system is able to detect a UAV at a distance of 10km, track its movement and disable it at a distance of over 6km by suppressing communications and control of the UAV.
Hand-Held Anti-Drone System:
The hand-held anti drone system allows for physical drone capture with no electronic countermeasure and offers predictable outcomes with a very low risk of collateral damage. The SmartScope feature aids the operator in the takedown, and multiple projectiles allow a tailored response.
Fully Autonomous Drone for Safety and Security:
This innovative drone system designed to strengthen security over sensitive sites via a fully automated response to disturbances. It is able to provide around-the-clock security without human intervention. When sensors are triggered, the drone takes off automatically and for a visual check of the situation with HD video feed transmission in real-time. The fully automated systems are powered by proprietary AI, with automated take off, safe navigation and precise landing features. No pilot training is required for security guards, and security teams can follow automatic missions or order live missions directly through their Video Management System.
Bullet-Proof Guard Box:
AGT's solution for bullet-proof guarding facilities is both portable and permanent, as well as being practical. The KF range of bullet proof sentry boxes/guard houses come in a variety of sizes and can accommodate up to 12 people in a single unit, with even greater capacity if multiple units are connected. The standard focus specification features air-conditioning, gun ports, roof-mounted search lights, intercoms and external telephone and they can be fitted with clear, tinted or fully mirrored windows. They also come complete with an emergency evacuation system and can be fitted with toilets, kitchens and beds if necessary. The freedom units can be supplied in basic "shell only" form, or may also be fitted with the full range of focus accessories.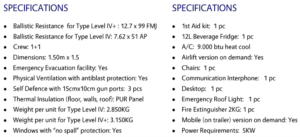 Ballistic Blinds:
This British designed and manufactured security blind is highly effective against forced entry intrusion, ballistic threats and explosive blast incidents. It is the only security blind globally that can withstand such high levels of attack yet still manages to comply aesthetically with modern workplace and domestic standards. It has been tested for blast mitigation protection against 100kg and 500kg TNT equivalent explosions. The ballistic blind looks and functions like a conventional window blind, whilst also protecting users from attacks – so the uninformed individual is oblivious to the fact that they are being protected.
Walk-Through Fever/Metal Detector with FR Option:
The Walk-Through Temperature and Metal Detector with Facial Recording combines the features of temperature detection, metal and weapon detection and facial recognition in a single unit. The detection of metal objects, such as weapons, adds an additional level of security to your facility without requiring additional equipment. The unit can detect two or more objects concealed in different parts of the scanned body.
The system can record up to 50,000 facial images and the data capture may be analysed using wireless network software or through the mounted LCD screen that comes with the unit.
Body Scanner:
The Dual View Body Scanner is capable of providing the highest level of safety as required for prisons, airports, border venues and government facilities.
Designed with cutting-edge technology, the scanner uses low-dose x-rays, has a scan time of only 7 seconds and is able to provide excellent detection of dangerous and illegal objects, such as weapons, phones, liquids, explosives, drugs, wires and plastics.
The Dual View Body Scanner outputs two images. The double vision technology delivers higher image quality, especially in the area of the abdomen, thereby increasing reliability in the inspection process.
Weapon Threat Detector:
This portable weapon detector is a portable and discrete solution for effective detection of mass casualty weapons. The detection device has a leading detection capability system across common weapon platforms, including sub-machine guns, assault-style rifles, sniper rifles and all class III weapons. With a throughput of 50-60 people per minute it is highly practical and, due to being light-weight and having long battery power, it can be easily deployed wherever screening is needed.
The system features an audio and visual alert setting for easy detection, but it can also operate with these alerts turned off for a more covert screening. It is a passive detector and has no emissions, making it safe to be used for all individuals, including pregnant women.
The optional alarm output module allows for integration into PSIM's access control systems and/or video surveillance systems. No software, middleware or firmware is required. In addition, site assessments by us provided at the onset, followed by on-site training to include technology and screening CONOPS.
Mass Detection System:
The Mass Entry Screening System will automatically detect contraband items, including weapons, narcotics and quantities of banknotes in carried items, including backpacks and handbags. The system is an ideal solution for screening people at sensitive locations, such as airports, ports, conferences, public events and more.
The system is able to screen multiple people simultaneously, without them needing to empty their pockets or take off their coats, which makes it both discreet and highly efficient. It allows the free flow of people, thereby avoiding disruption, and improves security while also improving the overall security experience. By providing accurate 'standoff detection', it is a non-contact screening system that is safe for both guards and visitors.
When threats are detected, the threat type and location of the individual are identified and displayed on hand-held devices so that appropriate action may be taken by the responders. The system can be integrated with control room systems, CCTV, facial recognition and other security infrastructure.
Hand Baggage X-Ray:
Our hand baggage x-ray is the most powerful x-ray available for a system of its tunnel size. Its dual generators provide two upward, diagonal views of scanned objects. Each view can be manipulated independently, using separate image filters, allowing operators to inspect bags in-depth. With the best-in-class software, operators are able to utilise colourful, high-contrast filters to identify materials, recognise objects and isolate threats with the highest speed and accuracy. The high-quality images enable greater throughput, making the WG Is6545DV an ideal solution for high-volume checkpoints requiring power, reliability and efficiency, and its compact size make it well-suited to confined spaces.
Large Baggage and Parcel X Ray System:
This system is designed for screening heavy baggage at airports and cargo facilities. Offering high penetration and image resolution, the WG IS100XDX is equipped with dual generators that provide operators with two separate views of scanned objects, from the top and the side. Each view can be manipulated independently, making it easy to perform reliable and conclusive inspections. The side shooter is detachable, for easy relocation.
Combined with best-in-class software, the WG IS100XDX will recognise objects, identify materials and isolate threats with highest possible speed and accuracy.
Pallet and Cargo X-Ray System:
The pallet and cargo X-Ray Scanner is a high-capacity x-ray inspection system designed for screening heavy cargo at airports, seaports and transportation facilities. Its powerful 200kV generator provides high penetration and image resolution, allowing operators to recognise objects, identify materials and isolate threats with a high level of speed and accuracy. The greater image quality enables a higher throughput, making it an ideal solution for cargo and logistics facilities that require high-level protection from weapons, explosives and contraband.
Desktop Detector for Narcotics and Explosives:
The Desktop Detector provides fast, accurate analysis for reliable results, making it ideal for use at customs and borders, as well as critical infrastructure and high-security events. The combination of ion mobility spectrometry technology and gas chromatography provides operators with a highly sensitive, selective system that is designed for use in environments with a high throughput.
The system is simple to use and operator-friendly and the low consumable and daily maintenance requirements mean operation costs are a minimal. It offers laboratory-grade accuracy and detects nitrogen and peroxide based explosive compounds, as well as multiple narcotics.
Handheld Explosives and Narcotics Trace Detector:
The Handheld Explosives and Narcotics Trace Detector can positively identify the presence of explosives and narcotics within seconds. This powerful but lightweight detector uses ion mobility spectrometry technology to detect trace amounts of volatile compounds. The detector delivers extremely fast, accurate results, with the sampling and analysis processes taking just 10 seconds. Weighing less than 4kg (9lbs), the battery-operated unit is ready to use in under 20 minutes from a cold start-up.
Liquid Scanner:
The liquid scanner offers the best detection rate available, according to ECAC Standards. It has the lowest operational false alarm rate, of below 1% in EU airports. Scans take just 5 seconds, during which time specific threat materials are identified and named. The scanner is ideal as a stand-alone system for all containers, or for alarm resolution with EDS for cabin baggage.
The ongoing development and integration of information technology in all areas of business means that today no company can afford this technology to fail. Almost without exception, a power supply failure in industry and business leads to collective incapacity.
Only a few years ago many organizations were able to "survive" an IT infrastructure outage of several hours, but today the number of companies for whom continuous IT availability is essential is growing steadily. According to a study by the Meta Group, a 10 day breakdown of key IT systems can cause such lasting damage to an organization that there is a 50% chance it will disappear from the market within the next five years.
Structured and competent planning is fundamental if you want a truly comprehensive security system. Therefore, we always start by identifying any potential risk which then enables us to offer customized security goals and solutions to our customers.
AGT's team of professional services consultants has well over 30 years combined data center experience, including integrated circuit design as well as Tier IV data center commissioning.
Our expertise in this area includes:
Data center design consulting
Mechanical systems
Electrical systems
Construction
Communications infrastructure